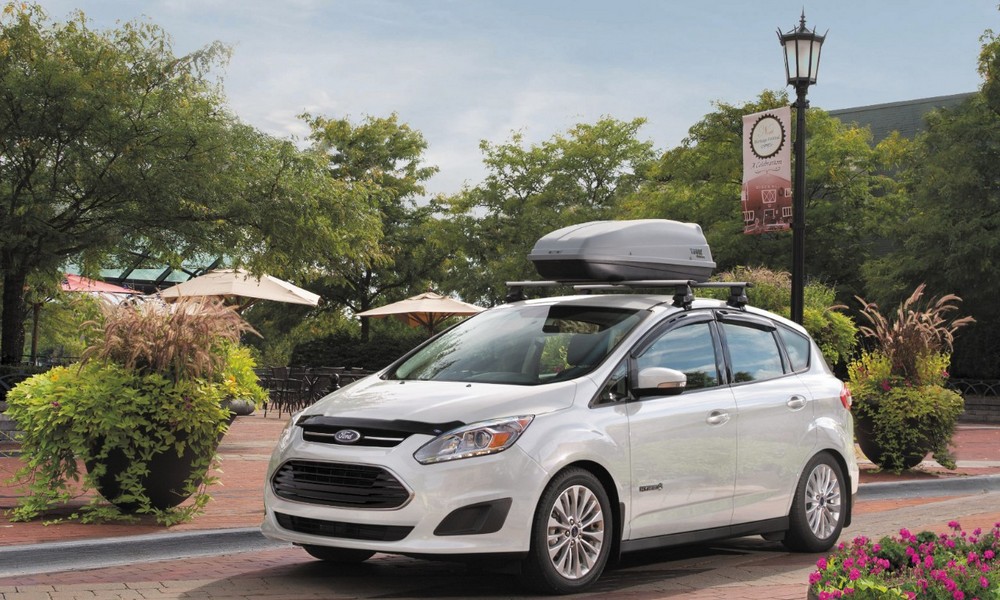 Overview
The 2017 Ford C-MAX Hybrid combines the best of all worlds: it's practical and fuel-efficient, yet sporty and refined. Driving the C-MAX Hybrid will take any ride—whether it's a cross-country adventure or a simple daily commute—to the next level.
The C-MAX Hybrid has a redesigned front fascia, a top-of-the-line new trim called Titanium, and a variety of reconfigured option packages. There are two different trims to choose from, including the baseline Hybrid SE and Hybrid Titanium. A plug-in model, the C-MAX Energi, is also available.
The Perfect Ride for…
Those who wish to have the efficiency of a hybrid with the functionality of a sportier vehicle. The 2017 Ford C-MAX Hybrid is a utility vehicle like a crossover, in the shape of a scaled-down wagon. It's spacious yet small enough for city driving, and Ford has called it a "multi-activity vehicle."
Drive & Handling
The 2017 Ford C-MAX Hybrid is all about efficiency. Whether it's winding around mountain roads, jetting out into the country, or making the daily commute to the city, the C-MAX Hybrid is designed to get from place to place as efficiently and effectively as possible. Its 2.0-liter four-cylinder gasoline engine and electric motor powered by a lithium-ion battery produce 188 combined horsepower to the front wheels through a continuously variable automatic transmission (CVT). EPA fuel economy ratings for the vehicle are 40 mpg combined (42 mpg city, 38 mpg highway).* The C-MAX Hybrid is an excellent choice for drivers hoping to lessen their carbon footprint while still experiencing a powerful drive.
Key Features
SmartGauge®​ with EcoGuide
This dual-LCD system helps you maximize the efficiency of your C-MAX Hybrid by giving you information in real time about your vehicle. Modes like Engage and Empower tell you when you're in EV mode (only using the battery), your fuel-versus-battery usage, how much power you're using, and other information. To help you visualize your efficiency, the EcoGuide display even grows green leaves and vines based on your fuel economy.
EcoSelect Button
Exclusive to the C-MAX Hybrid, this button allows the vehicle to operate at peak efficiency. It's activated by simply pressing the EcoSelect button on the center console. Information will appear in the form of a graphic when EcoSelect is activated. Drivers can use this feature to receive less aggressive heating and cooling, smoother acceleration, quieter engine output and EcoCruise activation. EcoSelect is the perfect complement to the SmartGauge® function.
Alternative Options
For those who are looking for a slightly different driving experience, the 2017 Focus Electric and the 2017 Fusion Hybrid are great choices for those who still want maximum fuel efficiency. The Focus Electric is a compact hatchback with a 107kW magnetic electric traction motor and a 33.5 kWh liquid-cooled, lithium-ion battery. The Fusion Hybrid is shaped more like a traditional sedan and has an electric motor similar to the C-MAX Hybrid. It's the perfect car for an environmentally minded family.
Any Ford hybrid on the market offers maximum efficiency, power, and convenience, allowing drivers to travel anywhere in comfort and style.
Gallery
*EPA-estimated city/hwy mpg for the model indicated. See fueleconomy.gov for fuel economy of other engine/transmission combinations. Actual mileage will vary. On plug-in hybrid models and electric models, fuel economy is stated in MPGe. MPGe is the EPA equivalent measure of gasoline fuel efficiency for electric mode operation.
Image Credit: Ford